Technical Parameters
| | |
| --- | --- |
| Working Voltage | AC220V±10% 50Hz |
| Rated power | 1KW |
| Rated current | 5A |
| Fuse specifications | 10A |
| Ambient temperature | -10 ℃ ~ 40 ℃ |
| Humidity environment |  <=90% |
| NW/GW | 65kg/80kg |
| Apparatus size | 530×420×1100 mm |
| Package Size | 720×550×1220mm |
Effects
Main effect:
For Body:
1. Slimming and tighten for arms, legs, thighs, buttocks, back, waist and abdomen.
2. Sculpture "S" shape of body,buttock lifting.
3. Remove Orange peel, skin wrinkles and stretch marks.
4. Alleviate and analgesia, help relax and improve sub-health state. Such as neck and shoulder pain, joint pain, sciatica etc.
5. Speed up skin metabolism and lymphatic drainage as well as blood circulation.
6. Activate cells and collagen protein rebirth, improve skin condition. Make skin smooth, elastic.
7. Speed up body metabolism, improve constipation, abdominal distension body state.
For Face:
Face lifting, face sculpture
Lymphatic drainage
Speed up face skin metabolism
Improve skin state of face.
Speed up blood circulation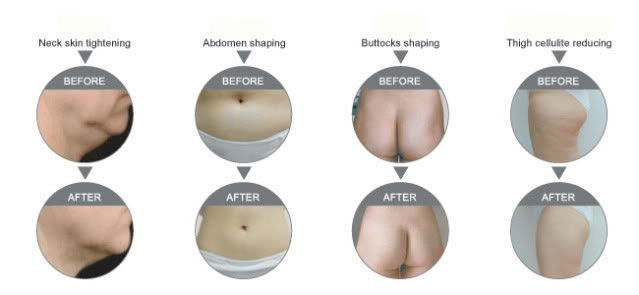 Advantages
1.Tighten the arm,legs,thighs,buttocks,the back and waist,abdominal muscles,remodeling the body shape.
2.Execute different therapy and improve according to different degree of orange peel and adipose tissue and gestation wrinkle.
3.Alleviate and analgesia to mechanical aerobic exercise regularly to rapid ease pressure and eliminate tired.
4.Deep lymphatic drains the waste of metabolism in the body tissues out of body to detoxifying the body lymphatic.
5.Enhanced blood circulation,active cells ,promote metabolism and make the collagen protein and elastic fibers hyperplasia 130% to improve the condition of facial and body skin.
Principle
LD M6+ Body Sculpture Body Slimming Machine adopts vacuum pressure, using the vacuum suction principle to do deep massage can transform the fat into fatty acids, and drain out of body by lymph circulation, to consume fat effectively to get slimming body, and also accelerate the metabolism of skin to enhance reproduce ability of the collagen protein and elastic fiber tissue, makes skin becomes better.