Newest Technology Ultrashape Body Slimming
LF6057B Ultrashape Body Slimming is the most advanced slimming device for beauty salon, spa and clinics with no wound, no restoration period and no many times treatments.it adopts noninvasive Ultrashape technology by transforming intensive energy to target fat tissue lying7-13mm under the skin, transfer the Ultrasound wave to instant heat energy, resolve the subcutaneous fat cells under high temperature 65-72degree and high speed vibration to dispel out of body. while at the same time stimulate collagen restructuring to fill the gap after melting fat quickly. It is also have good effects for skin firm and smooth after treatment. One time 40 minutes can lose 2-7cm with relax massage.professional gesture, and enough energy .
Technical Parameters
| | |
| --- | --- |
| Voltage | AC230V |
| Frequency | 4Mhz |
| Power | 75W |
| Depth of skin | 7mm&13mm |
| Cartridges | 20000shots |
| Operation mode | stamp& auto |
| NW/GW | 14Kg/30Kg |
| Device Size | 530*440*1100mm |
| Package size | 460*480*1280mm |
Effects
Effects:
1.Burn the annoying fat tissue and lose weight
2.Shape perfect S stature and size loss
3.Recover tight and flexible skin,lift up lower abdomen skin
4.Layer collagen production and rebirth.
5.Recover dark skin stretch and scar.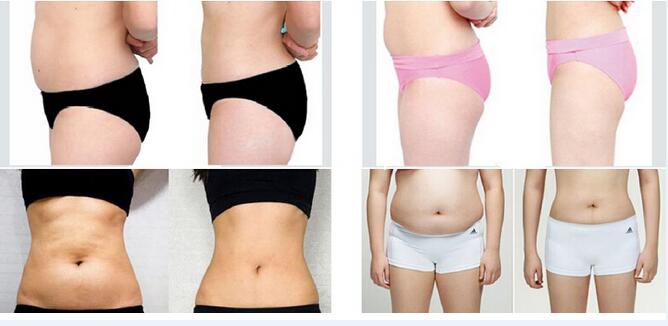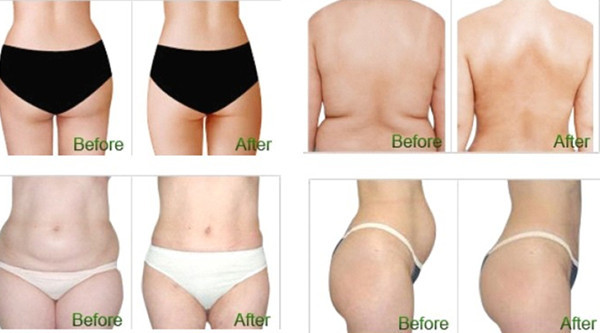 Feature
1.Stamping type HIFU equipped with 4 transducers
2.Non-surgical body treatment
3.13mm cartridge for Abdomen & 7mm cartridge for forearm, thigh
4.Stamp & Auto mode:
– Stamp mode: 16 shots with one trigger (4 transducer x 4shots individually)
-Auto mode: Continuous shot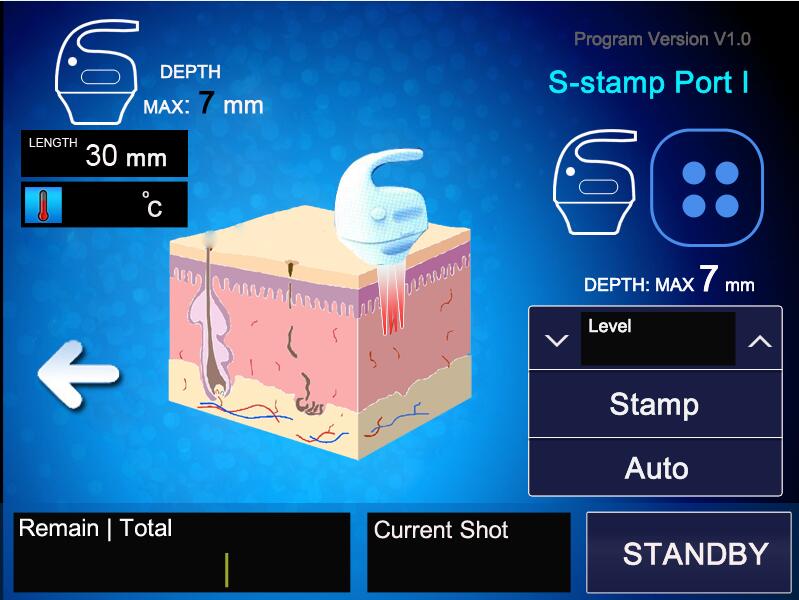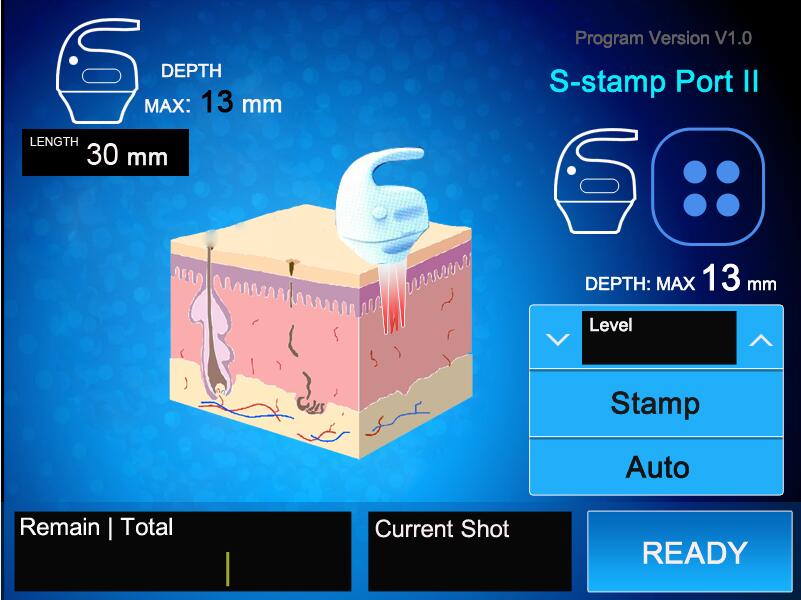 Advantages
1.Non-surgical treatment: no injection, no wound, no drugs, no anesthesia in the whole treatment process.
2.Safety: There is no risk of infection and trauma. A safe body shaping is promised.
3.Intelligent design: Intelligent control, touch operation, visual interfaces, Easy to learn, safe and convenient.
4.Convenience: The whole treatment is comfortable, no need to wear a shaping corset, no down-time, without any affects to normal life and work.
5.Effective results: After one treatment, 2cm fat will be reduced; after 3 treatments, 5-8cm fat will be removed. Remarkable slimming results without bounce.
6. Strong research and development capability:We're the first Chinese manufacturer to produce this machine.
Principle