Portable Ultrasound Face – LB2035
Product Description:
LB2035 is the most advanced anti-aging device which can have immediately effects for skin lifting after one time treatment. Meanwhile Ultrasound face lifting can solve sagging skin such as wrinkles, double chin, also improve skin elasticity, dark skin color shining, tighten forehead skin to lift eyebrows.
LB2035 Ultrasound face lifting machine is the best choice for clinic, beauty salon, plastic surgery hospital and professional beauty center for anti-aging project such as skin lifting, wrinkle removal, skin firming.
Technical Parameters
| | |
| --- | --- |
| Voltage | 230VAC±10% |
| Frequency | 7.0MHz,3mm&1.5mm/4.0MHz,4.5mm |
| Max power | 50W |
| Temperature range | -20 ~ 60 °C |
| Humidity | ≤93% 【no condensation】 |
| Time | Adjustable |
| Size | 42*42*44.5cm |
| NW/GW | 10KG/16.5KG |
Effects
Effects:
Skin lifting and wrinkle removal.
Lifting apple zone& V shape chin
Improve double chin& neck stretch
Skin shining& pore shrinking
Strengthen skin elasticity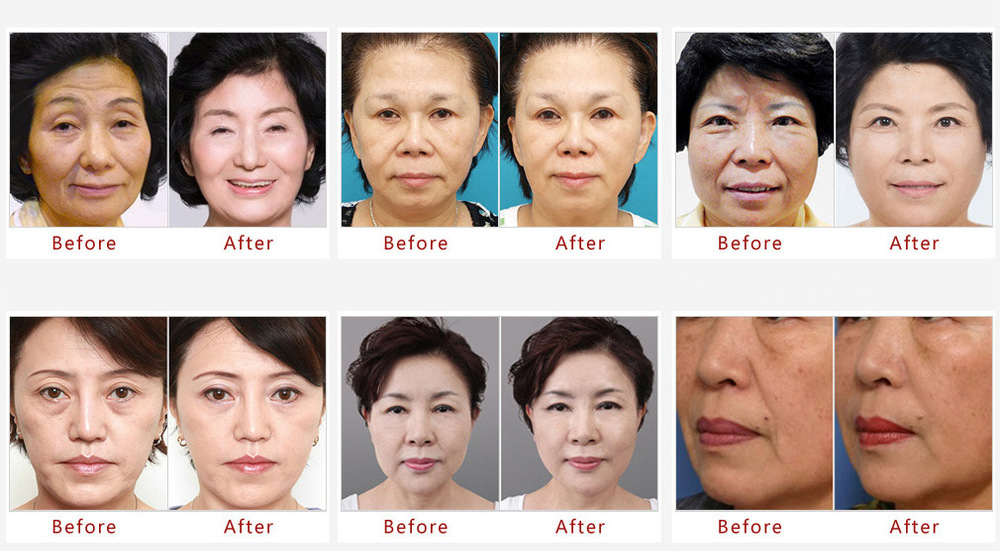 Advantages
Product advantages:
LB2035 HIFU Face Lifting is the most popular anti-aging project at present. It uses the  newest High Intensity Focused Ultrasound technology, which focus thermal energy together on one point, can directly penetrate into SMAS fascia layer. It has 3 different depth head piece of 1.5- 4.5mm, can penetrate into different depth of skin to reach perfect anti-aging effect.
4.5mm head piece can penetrate into SMAS fascia layer, tighten and lift up the layer from bottom, accurately improve skin subcutaneous tissue structure, improve skin sagging condition effectively.
3.0mm head piece can penetrate into dermis, stimulate the collagen immediately rebirth in quantity and recombination, rebuilt new collagen fiber network, recover skin flexibility.
1.5mm head piece can work on the epidermis layer, the thermal energy can stimulate coarse pore shrink, accelerate skin cells metabolism, enhance cell's activity, recover skin's smooth and improve dark color of skin.
Company advantages:
Shenzhen Langdai is a professional beauty equipment manufacturer in China, which has been in this field since 1998. We have our own R&D department and 3000 m2 factory, all products are designed by ourselves, so our products are unique in the market, we can offer OEM & ODM service as well.
What's more important, we put the quality on the first place, the core of spare parts are imported from UK and Germany. And also, we have professional after-sale service team, if you have any problem, we will serve for you within 24 hours.
Principle
Principle:
LB2035 HIFU Face Lifting adopts high intensity focused ultrasound wave to penetrate deep SMAS Layer which immediately shrink , rebuild new collagen fiber of bottom layer and strengthen flexibility .
Unlike lasers, which penetrate the skin from the outside-in, the HIFU procedure bypasses the surface of the skin, and delivers targeted energy specifically into the deep, focused thermal energy together on one point by vibration of high frequency, then SMAS layer tightening and lifting. Accurately improve skin subcutaneous tissue structure, making aging collagen contraction and stimulate recombination, rebuilt new network from bottom layer.