Portable IPL E-light Doctor
Adopt IPL and bipolar RF technology, Langdi IPL Hair Removal Machine works on our dermis and connective tissue and stimulates rearrangement and growth of collagen in different depth to achieve the ideal caring effect. Based on the skin's selective absorption capacity of light, IPL makes different lesion tissues in our epidermis and dermis layer produce light pyrolysis effect. And optical energy of our IPL E-light is much advanced than traditional IPL light, so it can let vascular and pigment diseased tissue in dermis layer absorb more energy to remove these diseased tissue without any damage to our epidermis layer, thus to cure different skin problems.
The frequency of RF biopolar radio frequency can make the molecule in cells under specifical depth of our skin to do high speed vibration and fierce friction to make temperature of our deep skin tissue reach to 45-65°C, so the collagen fibers constract quickly which make the flabby skin and wrinkles be firmed, at the same time, the heat effect in dermis layer produce proliferation of collagen cells to rejuvenate our skin.
Technical Parameters
| | |
| --- | --- |
| Work Voltage | 220V±10% 50Hz(110V±10%) |
| Energy | 1-50J/CM2 |
| Wavelength | 480nm, 530nm, 560nm, 590nm, 640nm |
| RF Energy | 1MHz |
| Spot size | 10x40MM |
| Pulse Interval | 1-99ms adjustable |
| Pulse Number | 1-6 adjustable |
| Pulse Width | 0.1-10 pulses |
| Size of water cooling tank | 4L |
| IPL Peak Power | 1000W |
| Xenon lamp | Germany brand |
| Cooling level | 1—4 adjustable by step |
| Cooling system | Fan cooling& water cooling |
| LCD | 8.0 inch touching screen |
| Capacity | 4*10000uf |
| Certificate | Medical CE |
| Technology | IPL |
| Warranty | 1 year for main body |
| Material | Metal & baking finish |
| Size | 44x30x44CM |
| Package size | 62x60x62CM |
| NW/GW | 34KG/44KG |
Effects
Permanent hair removal
Wrinkle removal
Skin rejuvenation
Pore & vascular therapy
Acne treatment
Pigmentation removal in epidermis and dermis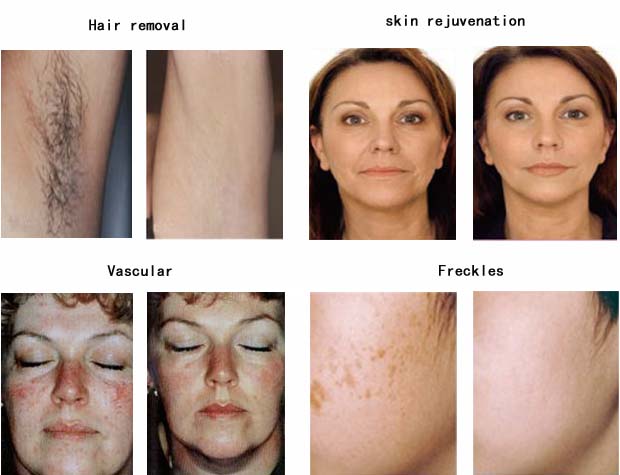 Advantages
1. Instant effect: after one time therapy, the effect will be very obvious, especially for hair removal and skin rejuvenation.
2. Noninvasive: without any trauma for the skin tissue. effectively avoid side effects the laser, flash slide at the same time greatly reduce the difficulty of the operation.
3. Painless: Excellent cooling system to protect epidermis layer
4. No follow-up care: do not need special postoperative care, pay attention to prevent direct sunshine contact and hydrate;
5. No side effects: nothing rational or chemical reactions after treatment, comfort with everlasting effects;
6. Stable effect: the effect more than ten times of other methods, wider suitable of customers, instant curative effect is more apparent, long-term effect is more durable;
7. Security: IPL freezing skin instrument is the combination of high-tech optics and the biological engineering technology, changed the past way of tender skin and hair removal.
Principle