40.68MHZ Super RF – LF6037
Product Introduction:
LF-6037 is an anti-aging instrument which adopted the latest RF with frequency 40.68MHz, which is an effective anti-aging & body management instrument introduced from Israel technology. The difference between LF-6037A 40.68Mhz RF and traditional RF [ mesotherapy ] is that 40.68Mhz RF is approved by International Electric Committee that can be used in medical system.
LF6037 40.68Mhz RF can produce Radio-frequency field under skin target depth, which makes the hydrone of the skin and subcutaneous tissue heated, to promote the hypoderm de-composition and metabolism, and to stimulate the collagen and elastic fibers hyperplasia and recombine , then to achieve the effect of tightening skin and reshaping.
Technical Parameters
| | |
| --- | --- |
| Rated Voltage | 110V-220V/50-60HZ |
| Power | 200W |
| Frequency | 40.68MHZ |
| NW/GW | 45KG/80KG |
| Packing Size | 59*64*142cm |
| Equipment Size | 44*52.5*118cm |
Effects
Effect:
Face rejuvenation:  Effective for slack skin, fine wrinkles treatment; sculpture & lift up & thin face, neck wrinkles remove.
Body rejuvenation: Sculpture buttocks, leg , arm skin loose,butterfly sleeve in the arm, postpartum repair , abdominal wall relaxation after liposuction.
Monopolar:
Effectively works in dermis layer and subcutaneous layer, can stimulate collagen rebirth and promote fat
dissolve and metabolism, used for cheek and neck treatment.
Bipolar:
Effectively works in collagen layer that is in our dermis layer to achieve firming and sculpture
Effect, suitable for eyepit, forehead, thin skin area.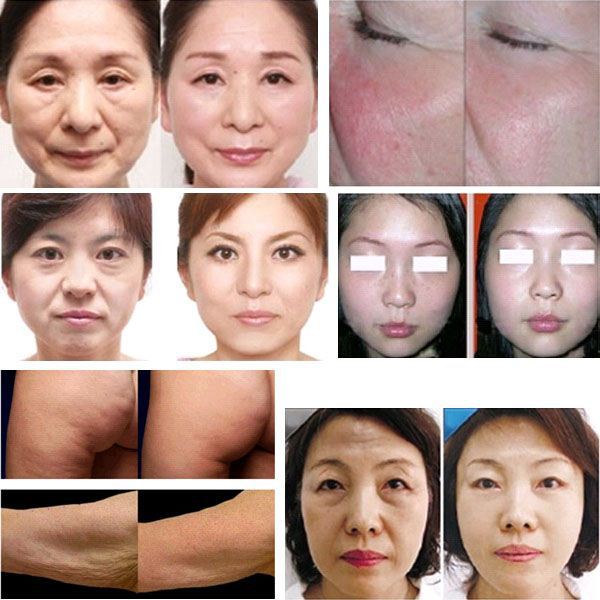 Advantages
Product advantages:
When we are over 35 years old, the growing rate of collagen becomes very slow, and the quantity of collagen cells decrease a lot, the collagen fiber starts to lose its elasticity, so we need strong energy stimulating.
The radio frequency of LD6037 is 40.68MHZ, it can stimulate the collagen fiber effectively shrink and collagen cells rebirth and recombination, to fill the gap of collagen loss and tighten skin, so as to recover skin' s smooth and elasticity.
Company advantages:
Shenzhen Langdai is a professional beauty equipment manufacturer in China, which has been in this field since 1998. We have our own R&D department and 3000 m2 factory, all products are designed by ourselves, so our products are unique in the market, we can offer OEM & ODM service as well.
What's more important, we put the quality on the first place, the core of spare parts are imported from UK and Germany. And also, we have professional after-sale service team, if you have any problem, we will serve for you within 24 hours.
Principle
Principle:
The difference between traditional meso-therapy, microwave meso-therapy and LF6037A is that LF 6037A can intelligently choose the depth of subcutaneous according to different treatment area, and produce 40.68MHz RF field. The heat only working on deep skin layer, can guarantee the epidermal layer comfortable, so that make the epidermal protected. Collagen will immediately shrink when heated leads skin comes to traumatic reaction by the contractive collagen. The fibroblast will hyperplasia more collagen during traumatic reaction process,which greatly improve and speed up collagen rebirth . Skin will be greatly updated except the fine wrinkles, of course, skin will be well-stacked and elastic.